TURNING ideas and passion into a sustainable business model is never easy, but the Social Enterprise Education Lab (SEEd.Lab) programme has shown participants exactly how to achieve that. 
Now in its second cohort, the country's first 12 to 18 months end-to-end incubation programme organised by a partnership between Petroliam Nasional Bhd (Petronas) and Tata Consultancy Services (TCS), nurtures young graduates and budding entrepreneurs to seed, incubate and commercialise their ideas into actual social enterprises. 
As the main forces behind SEEd.Lab, Petronas and TCS contribute their resources to accelerate the journey of these social enterprises by providing business and leadership mentoring, technical expertise for solution development, funding for solutions, market testing and commercialisation, to name a few. 
With the social enterprises from its first cohort already in commercialisation and contributing to their causes of passion, the second cohort of the programme follows the journey of the new batch of participants, also known as SEEDlings to uncover and address social pain points to positively impact the lives of communities. 
In a special interview session with New Straits Times, programme manager Aidonna Jun Ayub said, "What sets us apart is the continuous end-to-end support we provide to aspiring social entrepreneurs who do not necessarily have the 'how' figured out yet but have the passion to serve the nation and the communities. 
"This is a full-time programme and throughout the 12- to 18-month period, they are brought into an intensive journey that will enable them to expand their skills and capabilities with the help of their assigned mentors from idea implementation to commercialisation. 
"I have a team of eight that not only run the administrative parts of the programme, but also serve as coaches to the participants," said Aidonna. 
Cohort 1 of the programme graduated with 25 participants and three ventures that have collectively impacted more than 11,000 lives and counting across the country. 
The three ventures that were successfully launched from Cohort 1 were Teman Malaysia, Foodlab Cloud Kitchen and SOLVNEX Gig-works. 
Building on from the success of Cohort 1, SEEd.Lab continues its journey with Cohort 2 comprising 50 participants from September last year who are expected to graduate next March. 
They initially started with 10 teams in Cohort 2 and as they go into commercialisation, they now have a total of six teams. 
For its second cohort, SEEd.Lab aims to address specific social challenges that exist within five domains, including Food & Agriculture, Health & Hygiene, Education & Skills, Personal & Financial Security and Entrepreneurship in Sabah. 
Aidonna said the premise of the programme is solving communities' pain points and creating a multiplier effect. 
"Social enterprises have the potential to play a key role in rebuilding economies in a financially sustainable manner, which in turn will push the community to grow and taste the benefit together. 
"Given the talent, resources and expertise we have in our companies as well as the partners we work with, we have a role to play in leveraging our expertise, experience and resources to contribute towards building a more equitable and sustainable social environment. 
"The idea of SEEd.Lab was conceptualised to enable us to leverage our strengths and realise this mission as an innovation hub that helps develop sustainable solutions in addressing current pain points of the communities," she added.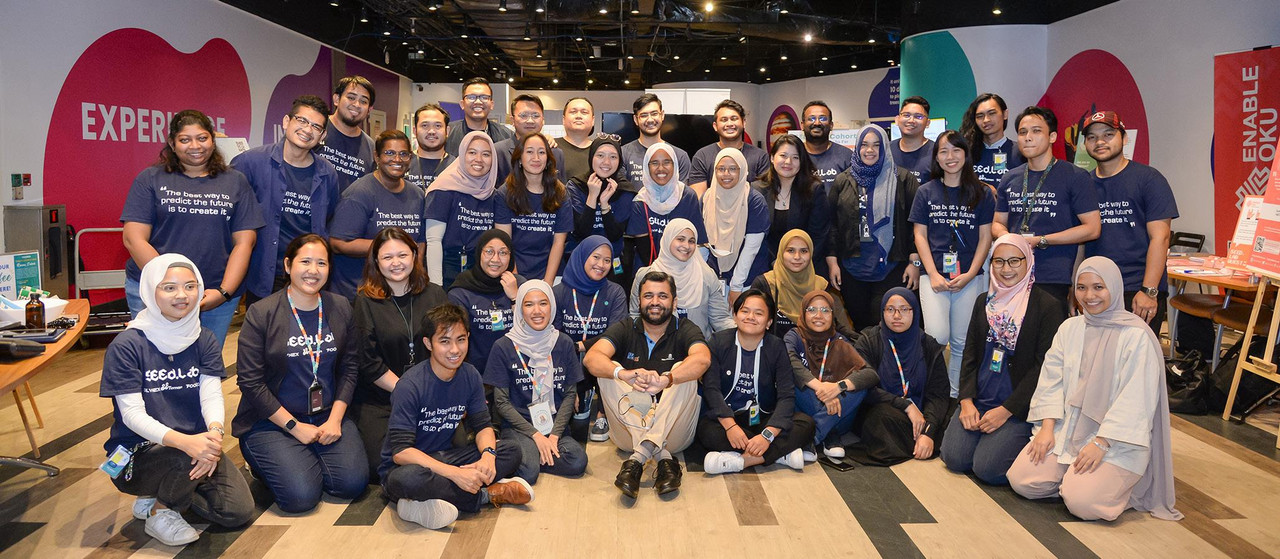 She said SEEd.Lab monitors the number of lives impacted by each social enterprise, as well as the number of ventures that it has established. 
"We are in the business of developing changemakers and making a difference in the community. This is the space where we can leverage the strength that we collectively have, and we hope to see shifts in the areas that our solutions operate in. Even right now, the stories of the impact shared by individuals touch my heart. I can only hope that there are more such stories out there that, later on, I can trace back to the seed that started from SEEd.Lab," Aidonna added. 
When asked about whether there have been surprises since the start of the programme, Aidonna said the first six months when SEEd.Lab was established felt like a "rollercoaster ride". 
"We were already on a fast-paced timeline to set up SEEd.Lab – drawing from TCS's Digital Impact Squared programme in Nashik, India; customising into the Malaysian context, and we were up and running. The idea is to do, and when we know better, do better. 
"We learned how to set up a team and connect within our network. At the end of the day, we chose progress over perfection and that is what matters," she said. 
Aidonna said one of the largest setbacks was in the form of lockdown in the wake of Covid-19 as it totally changed the way they worked. 
"The lockdown forced us to work from home, which was a huge challenge at first, but today, we can see their silver lining. We've come out stronger and have more trust in ourselves of our own ability to think on our feet, be quick to adapt and respond fast to changes," she added. 
SEEd.Lab is also actively seeking to collaborate on social perspectives and business perspectives as well as opportunities for investment for organisations that share the same aspirations in helping targeted beneficiaries. 
Aidonna hopes that other industry players would rally behind the cause and join the movement towards building a better future for the younger generations. 
"This is just the beginning of SEEd.Lab and we will carry on with more cohorts while improving as we go along, with Cohort 3 to begin in the third quarter of next year. 
"We are looking for collaboration partners for this as we would like to solve the social issues of those partners through the establishment of social enterprises. 
"If this is what we can achieve in three years between us, TCS and existing partners, imagine what we could do with more cooperation on board this journey. 
"I believe we have the capabilities to unlock bigger opportunities for the betterment of Malaysia," she added. 
Take a look at the teams part of SEEd.Lab Cohort 2:
Niagable 
Empowers street food vendors by providing affordable solutions and relevant insights to enable them to make informed, timely and profitable business decisions.
'Fundamental Malaysia' 
A family wellness programme that encourages open communication to nurture good family relationships through curated activities.
Sejolly
The creator behind Rootin – a collaborative digital platform for therapists and parents of children with autism – provides home reinforcement video modules to enhance their development. 
One Way
A platform that enables micro, small and medium-sized enterprises (MSMEs) to share space with vehicles headed in the same direction allowing for effective, reliable and affordable inland logistics arrangements. 
ENOKU
Provides a solution that empowers and supports People With Disabilities (PWD) by paving opportunities for employment.
SAPOT
A digital self-care and social support platform that provides mental health services including Sapot Warriors – Malaysia's pioneer accredited peer supporters.
© New Straits Times Press (M) Bhd