ANYONE can learn how to take a beautiful photo. 
As the saying goes, practice makes perfect, which is especially true for photography. 
For those looking to improve their photography skills, travel photography is an excellent starting point — it is a genre with few limitations (a smartphone, yet the surroundings, altitude and even time can affect the outcome of the photo. 
That said, don't blindly jump into travel photography; it is important to know a few tips and tricks to get off on the right foot. 
PLAN A SHOT LIST
Before arriving at any travel destination, photographers will find it helpful to spend a few hours planning out their shots.
A great tip is to get inspiration from social media platforms such as Instagram and TikTok, which have countless breathtaking shots and videos. 
Take note of these shots so that it is easier to capture desired photos and videos with the right angle and framing on-site.
Another tip is to devise a route on Apple Maps or Google Maps, forming the shot list and scheduling the right time for each shot. 
KEEP MOVING AROUND 
Resist the urge to immediately snap a picture from the standpoint upon arriving at the scene. 
Go closer, move back, step to the side, squat down — in other words, spend a few minutes moving around to find possible angles and frames that can give the shot more depth and focus. 
Photographers tend to capture as many pictures as possible from different angles and depths. They later on discover that their favourite photo is the one they least expected to look good. 
USE THE RULE OF THIRDS 
The rule of thirds is a composition guideline; the subject is in the left or right third of the shot, instead of in the centre. 
The idea is to balance the subject with the negative space in the shot, which creates a compelling composition that will draw the viewer's eye towards the subject instead. 
To do this, turn on the camera gridline, which will help as a guide to placing the subject, points of interest and negative space.  
TAKE NOTE OF THE GOLDEN AND BLUE HOURS 
There is no denying that light is everything when it comes to capturing a great photo. 
Many photographers claim that their best shots come from the golden and blue hours. The golden hour arrives just after sunrise and before sunset when the sunlight becomes a warm orange. Meanwhile, the blue hour occurs before sunrise and after sunset, when the sky is filled with purplish hues. 
Observe the framing of the camera shot to ensure that the subject, object and background are not cropped out. – File pic credit (Xiaomi)
OBSERVE THE FRAMING 
Framing is important in photography, as it ensures that the subject, object and background are not accidentally cut off from the picture. 
It also helps to determine whether any other objects, such as a tree, a person or a building, should be in the shot to make the picture look better.
However, it is also good to know that sometimes, an image with an object cropped out can turn out nice. 
KNOW YOUR CAMERA 
Be it a DSLR, mirrorless camera or smartphone, every camera works differently. That is why it is essential for photographers to fully understand how their camera works, so that getting better pictures will come faster and easier. 
Go through every setting on the camera and test the shots with a different focus, aperture and lighting to understand the camera's strengths as well as limitations. 
SPLENDID SMARTPHONE FOR TRAVEL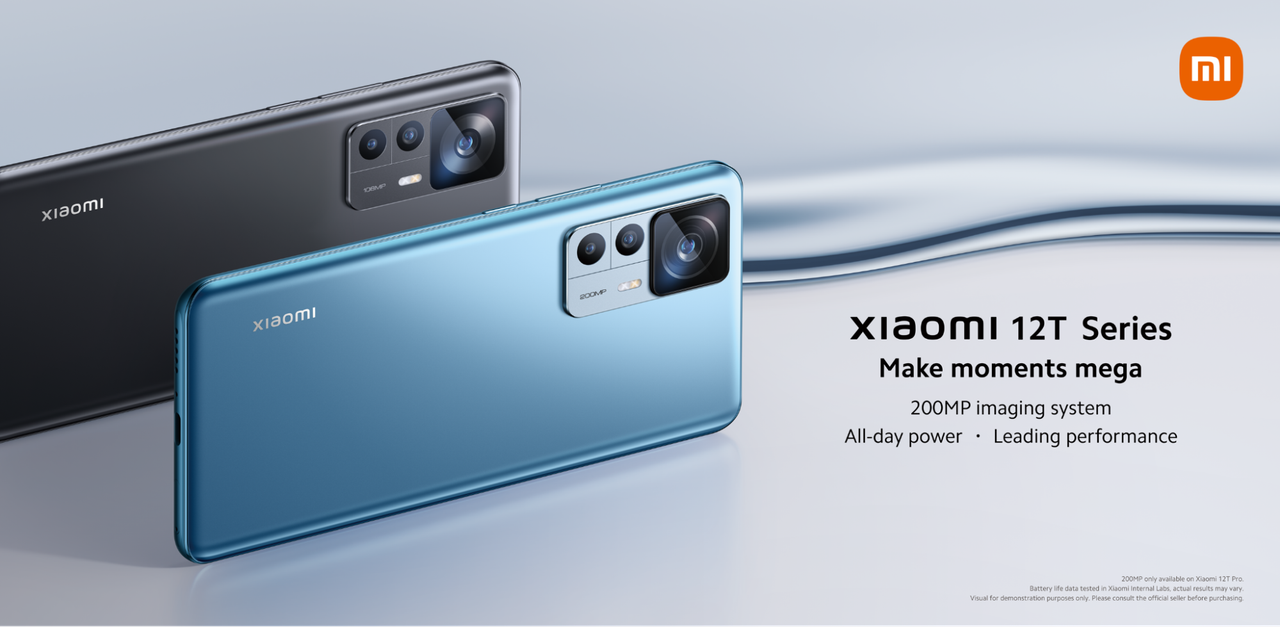 The Xiaomi 12T (left) and Xiaomi 12T Pro (right) – File pic credit (Xiaomi)
Those looking for an excellent travel companion for their travel photography expedition should look no further than the Xiaomi 12T series, which consists of two remarkable smartphones, the Xiaomi 12T and Xiaomi 12T Pro. 
Designed for all levels of photography, including travel, the Xiaomi 12T Pro boasts a powerful 200MP camera imaging system, making it the first such smartphone to enter the Malaysian market. 
Whether travelling locally or abroad, the Xiaomi 12T Pro can capture photos with super clarity, allowing photographers to 'make their moments mega'. 
The camera also features the Xiaomi ProCut and Ultra burst, which can easily crop and create professional-looking content. 
Another interesting feature is the Xiaomi ProFocus AI tracking technology, which combines motion-tracking focus, motion capture and eye-tracking focus so that photographers can easily track moving objects with full clarity, be it in the rough terrains of a mountain or a moving train. 
Pair the powerful camera with the blazingly fast Xiaomi 120W Smart HyperCharge as well as a massive 5,000 mAh battery, and it is easy to understand why the Xiaomi 12T Pro is a splendid travel companion for all travellers.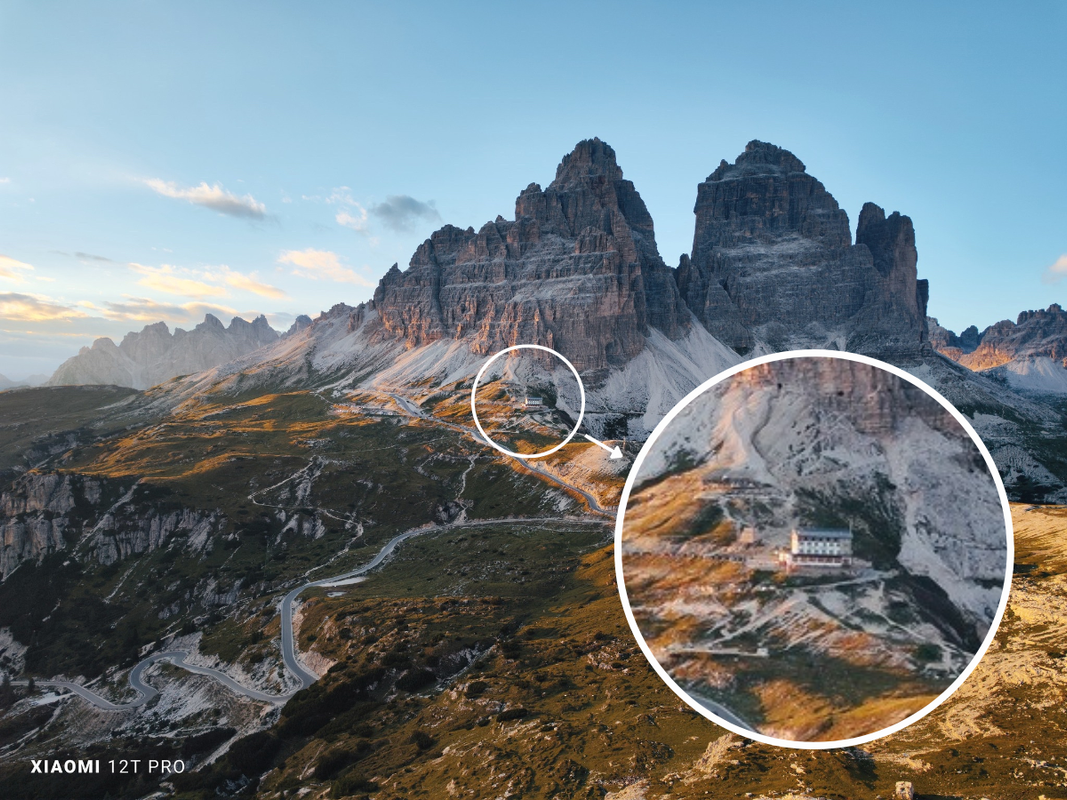 A look at the clarity of an image of the mountains in Italy taken with the Xiaomi 12T Pro. – File pic credit (Xiaomi)
Plus, the Xiaomi 12T Pro boasts powerful, lag-free performance, image processing and efficiency, thanks to the world-leading 4nm SoC Snapdragon 8+ Gen 1. 
It is capable of significantly increasing performance, while drastically reducing power consumption to provide better battery life and less heat. 
Those travelling with the Xiaomi 12T series will love its heavy entertainment capabilities. It has CrystalRes (1220p) AMOLED display, SOUND BY Harman Kardon and Dolby Atmos, all of which will match the needs of every tech-savvy user.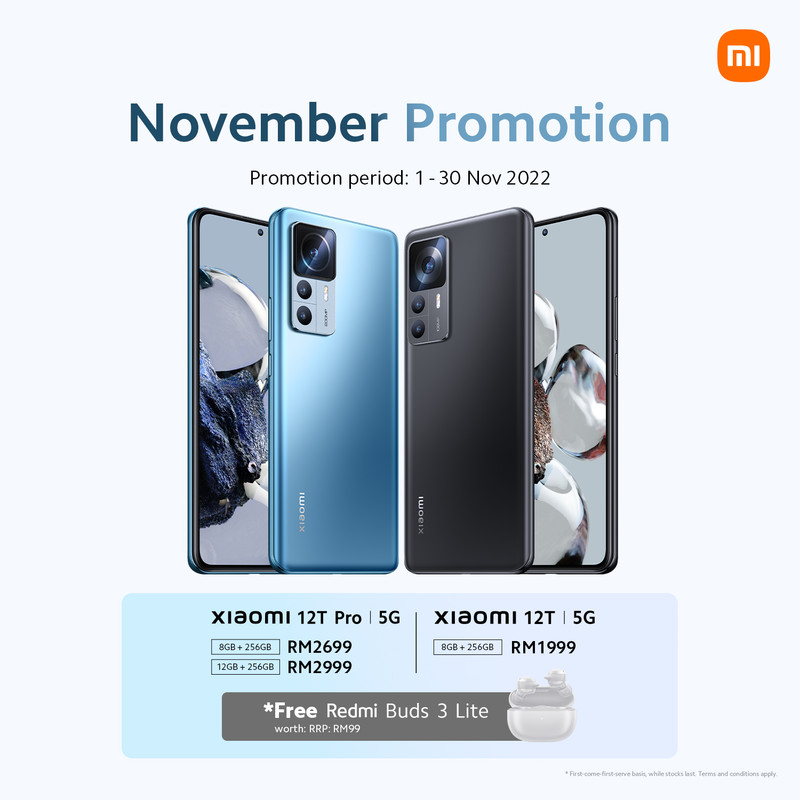 There is currently an ongoing promotion for November, where users can enjoy a free Redmi Buds 3 Lite when they purchase a Xiaomi 12T series smartphone. Here is a look at the models and pricing for the Xiaomi 12T series: 
Xiaomi 12T (8GB + 256GB): RM1,999 
Xiaomi 12T Pro (8GB + 256GB): RM2,699 
Xiaomi 12T Pro (12GB + 256GB): RM2,999
To purchase the Xiaomi 12T series, head over to Xiaomi's Authorised Stories or online stores on Lazada and Shopee. 
© New Straits Times Press (M) Bhd